[GA4] Search box in Google Analytics 4 properties

The search box at the top of Analytics lets you:
Search is available in all languages supported by Google Analytics 4 properties in Google Analytics.
If you click in the search box, you see recent searches and reports you have opened.
As you type in the search box, Analytics provides suggestions to help you find information, bolding the suggested portion of the text. You can use the up and down keys to highlight a suggestion and press enter to accept one. For example, when you start typing "user", you will see the following suggestions: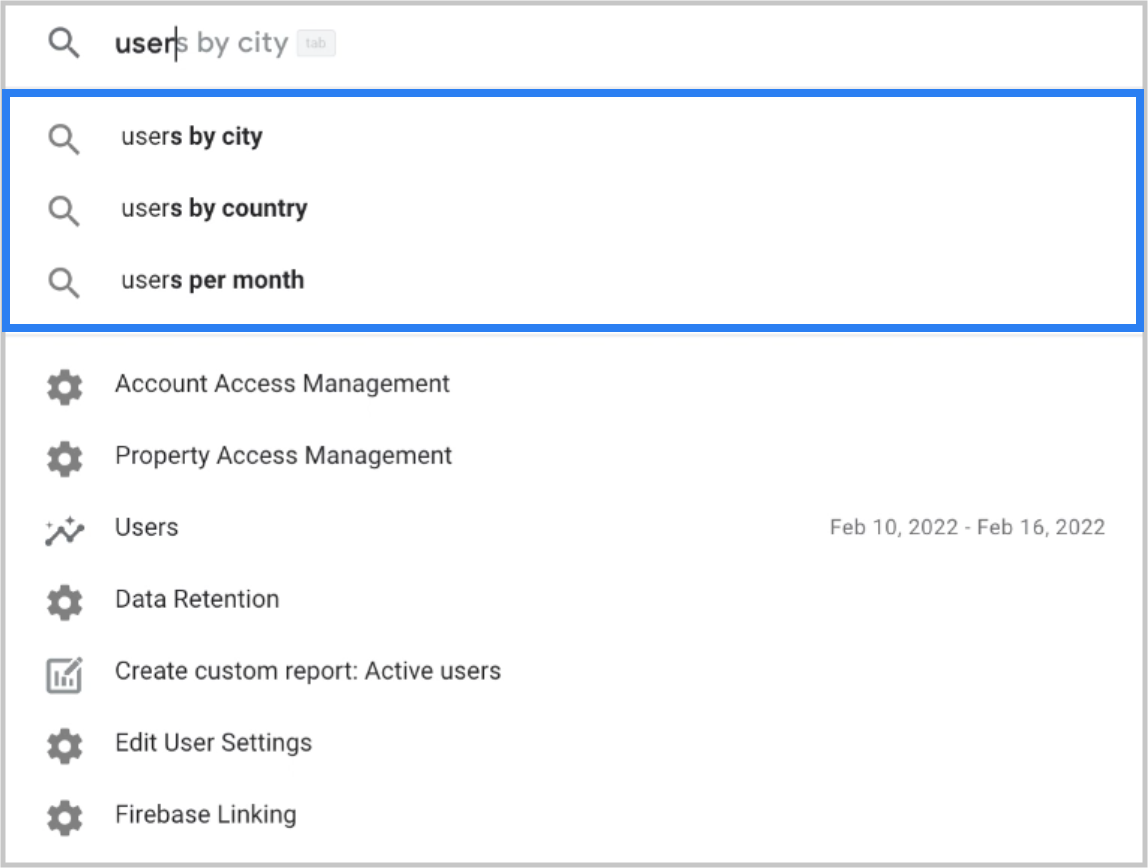 Search for instant answers
Ask a wide range of questions about your Analytics data in natural language, and get quick answers. While searching for instant answers, be specific about the metric, dimension, and time frame to get the desired response.
For example, you can search for "conversions last week from united states" and see the answer in the Search panel. Click the search result to open the Insights panel with more details.
Search for reports, admin pages, and insights
Reports
Start typing the name of a report or a keyword related to a report. For example, if you start typing "conversions", you'll see reports related to conversions:
Enter the dimensions or metrics you're interested in to get a list of reports that include them.
You can issue a search for more specific data, for example:
mobile users during the last week
united states users during the last 30 days
With these types of queries, you get a list of reports that include the dimension, metric, and date range you specify, e.g., United States, Users, October 20, 2019 - November 18, 2019.
You can also query for comparative date ranges: for example, "new users last month compared to last year" returns reports with the New Users metric for the previous month (e.g., June 1-30) compared to the same month a year ago.
Click a search result to open that report with the date filters applied.
Admin pages
You can navigate to pages in Analytics Admin by searching for the related functions; for example, if you enter "link ads", the search results include a link to the Admin page for linking your Google Ads and Analytics accounts. Click the search result to open the Admin page.
Insights
If Analytics has Insights relevant to your search query, those are also shown in the search results (e.g., Users were greater than 500 yesterday).
Search for account and property configurations
To find configuration information, enter search terms like Account ID, Property ID, or Measurement ID.
Search help content
If you need help with Analytics, enter a description of your subject, like "add web stream".
Click your help query to open a page of related search results. Click a search result to display that content.
When you want to search help content, it helps to begin search queries with words like add, configure, create, creation, delete, edit, how can, how to, modification, modify, remove, update, upgrade, set up, setup.
Analytics Intelligence Search personalization
Analytics Intelligence search history is stored for better personalization of Analytics search results.
For example, the Recently viewed section surfaces links to recently viewed custom reports and explorations and to the Admin page, Advertising hub, and Configure.
To see the activity saved in your account, click Admin, and in the Property column, click Analytics Intelligence Search History.
Users with the Editor role can delete any or all of the past search activity on a property.